The Photographic Dream World of Karin Hillmer
Interview by Ann Hart Marquis
I love books. Growing up in Germany I enjoyed reading my parents' Brockhaus, the multi-volume German encyclopedia. These volumes were similar to what Google is for us today, a source of endless discovery to stimulate the imagination.  <read more>
————————————————————————————————————————————————————————————————
My Book "Infinity & Dreams"  is available !
To preview the book <click here>
BOOK REVIEWS:
Book Review by John T. Hill, first Director of Graduate Studies in Photography, Yale University
John T Hill_Karin Hillmer_May_12
Book Review
by Timothy B. Anderson, Editor of Red Dog News
Red Dog News_Book Review_Infinity & Dreams by Tim Anderson_MAY_2012
————————————————————————————————————————————————————————————————————————— 
Book Signing with Karin Hillmer
EXHIBITION and BOOK SIGNING
at the Silvermine Arts Center Gallieries,  New Canaan, CT Saturday,December 1, 2012 from 11:00 am – 1:oo pm
<click for details>
12″ x 12″ framed photographs from the Infinity & Dreams series will also be available for sale.   The Stamford News writes: Silvermine Arts Center in New Canaan will be hosting a book signing with Guild Artist, Karin Hillmer on Saturday, December 1 from 11:00 am to 1:00 pm in the Silvermine Galleries. Ms. Hillmer will be signing copies of her recently published book, "Infinity & Dreams," a collection of photographs that were inspired by the short stories of Argentine writer, Jorge Luis Borges.The meaning and experience of time have always been important to Karin Hillmer. Her interest in this subject led her to the renowned Argentine poet and writer, Jorge Luis Borges (1899-1986), whose enigmatic fictions have been her inspiration. Hillmer's hauntingly beautiful photographs explore visually the concepts of time and the infinite moment as they pertain to dreams and different forms of reality. Her book, "Infinity & Dreams" represents a masterful compilation of her imagination. Andrew Hurley, an English translator of Spanish literature states in his introduction in the book, "The latest artist – and to my mind, one of the most intriguing – to join the ranks of "Borgesians" is Karin Hillmer, whose photographs pay tribute to Borges in a most original way. There is no imitation here, no literal transcription, no slavish "translation" from prose to photo. Yet while Hillmer's photo-collages most assuredly are highly original … they are also a pastiche of sources, styles….genres, and cultures." He further describes her images as: "charming, unsettling, provocative, endlessly revistable and quite beautiful."
Book cover
Born and raised in Germany, Karin Hillmer began experimenting with collage as a young girl. Later, she would include the medium of photography in her collages. Her photographs reflect new realities shaped by a lifelong interest in philosophy, history, art, invention, music and science. She is a painter, a photographer and, above all, a storyteller. Hillmer received her BA in Art History from the State University of New York (SUNY) and an MBA from Pace University. Her work has been internationally exhibited in museums and galleries, and is among numerous collections throughout the world. Karin lives in the Silvermine region of Norwalk with her husband.A selection of limited edition prints will be on exhibit and available for purchase in connection with her book signing on November 3rd.For more information, call 203-966-9700 or visit our website at www.silvermineart.org.About Silvermine Arts Center
Silvermine Arts Center located in New Canaan, Connecticut is one of the oldest artist communities in the United States. Located on a four acre campus, the center is comprised of a nationally renowned artist guild, award winning school of art offering multi-disciplinary art classes for all ages and level of experience, an art and fine crafts shop and galleries, offering over twenty contemporary and historic exhibitions annually. The center also provides innovative arts education in Norwalk and Stamford schools through its outreach program, Art Partners, and hosts a lecture series and special programs throughout the year. Silvermine Arts Center is a nonprofit organization.Silvermine Arts Center Mission
Grounded in the belief that art is vital to the spirit, creativity and wholeness of human beings, the mission of Silvermine Arts Center is to cultivate, promote and encourage growth through the arts; to showcase and serve artists; and to foster arts education and appreciation opportunities for the greater community.Gallery Hours: Silvermine Galleries are open Wednesday through Saturday, 12p.m. to 5 p.m. and Sunday from 1pm to 5 p.m. For more information, call (203) 966-9700 ext. 20 or visit the website: www.silvermineart.org.   —————————————————————————————————————————————————————————————————————————–
Auhtors on Stage
Interview and Book Signing at the New Canaan Library, Adrian Lamb Room, New Canaan, CT Sunday, May 20, 2012 @5 pm
<click for details>
A copy of the Collector's Edition "Infinity & Dreams" became part of the permanent collection of the Mattatuck Museum, Waterbury, CT.
——————————————————————————————————————————————————————————————————————————–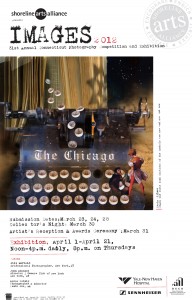 My photograph
Where infinite combinations of the symbols are now and now and now
was selected by the Shoreline Arts Alliance for their annual poster announcing the
Images 2012
photography exhibition
—————————————————————————————————————————————————————————————————————————
Griffin Museum News
photographs by Karin Hillmer at the Griffin Museum
January/February 2007 issue
January/February 2007 issue
See full article (pdf format)
Back Issue (no longer available)
See exclusive Web Portfolio
Art of the Northeast (AoNE)
Steven Madwed Memorial Award for Photography, 2009 @AoNE
Video of Jurying Process at AoNE by Juror Douglas Dreishpoon,
Chief Curator, Albright-Knox Art Gallery, Buffalo, New York
(go to 4:59)
60th AoNE Review, Connecticut Post
60th AoNE Exhibition Catalogue
Ad Infinitum Exhibition Catalogue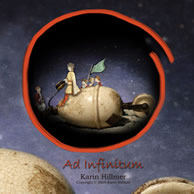 English – Deutsch – Français – Español